This article covers a detailed story about TV Actor Abhinav Shukla. It Covers more details about Abhinav Shukla's Age, Early Life, Career, Caste, Affairs, Siblings, Brother, Sister, Family, Parents, Father, Mother, Net Worth, Wife, Girlfriend, Child, Kids, Son, Daughter, Photos, About, Movie list, Show list, serials list, Facebook, Instagram, Twitter, Net Worth, Salary, Facts, Occupation, Profession, Education Qualification, Achievements, Awards, Photos, Videos, Gossips, News, Career & more..
Abhinav Shukla Bio/Wiki:
Abhinav Shukla is an Indian model and television and film actor known for participating in the Hindi TV serial Hitler Didi and Bigg Boss 14 as a contestant. He was born on 27 September 1982 in Ludhiana, Punjab. He received his early education in Ludhiana.
After this, Abhinav got his high school and Intermediate education from Guru Nanak Public School. He was very thin in his tenth grade, then his mother said that if your personality is not good then your confidence will be reduced. Then he started grooming himself.
He participated in many sports and science competitions during his schooling. After completing his intermediate studies, he joined Lala Lajpat Rai Institute of Engineering and Technology, Moga, Punjab in the year 2000 to complete his graduation.
He earned a Bachelor of Technology degree in Electronics & Communication Engineering in the year 2004. He won the Best Design Award at the Tryst 2004 Technical Festival organized by the Indian Institute of Technology, Delhi in the final year of his graduation.
He then moved to Mumbai to pursue a place in the acting industry where he learned modeling. In the meantime, in the year 2004, he participated in the Gladrags Mr. India contest where he Was successful in winning the title of Best Potential. Abhinav Shukla was first seen in the role of Arjuna in the serial Jersy No.10, telecasted in the year 2007. Abhinav started his acting career with this show, then he worked in consecutive serials and shows over the years.
He played Shantanu in the serial Jaane Kya Baat Hui (2008), Vikram in Chotti Bahu (2008), Dev Singh Khurana in Geet – Hui Sabse Parayi (2010), Dr. Manan in Ek Hazaaron Mein Meri Behna Hai (2011), Sumer Singh Chaudhary in Hitler Didi (2012), Anirudh Balraj Asthana in Badalte Rishton Ki Dastaan (2013), Om Rathi in Diya Aur Baati Hum (2016), Rajdeep Thakur in Silsila Badalte Rishton Ka (2018).
Apart from this, Abhinav has appeared as a contestant in Survivor India 1 (2012), Box Cricket League 1 (2014), Box Cricket League 2 (2016), and Bigg Boss 14 (2020). After participating in Bigg Boss 14, his fan following has increased a lot.
Although the show was won by his wife Rubina Dialik, Abhinav also left no stone unturned in the hearts of the audience. In this reality show, his game was highly appreciated by the critics and after the show, his demand in the industry increased considerably.
According to recent media reports, it is being said that Abhinav has been offered a new project by filmmaker Karan Johar. Now, how much this news is true or false will tell the time to come. He has also acted in some Bollywood films till now. He played Pandit in Roar: Tigers of Sundarbans, Ricky Khambata in Aksar 2, and Nazim in the Bollywood film Luka Chuppi. He was seen in the Bollywood film Aksar 2 with his wife Rubina Dilaik.
In the year 2021, Abhinav is now seen as a contestant in Colors TV's most talked about and dangerous show Fear Factor: Khatron Ke Khiladi. Apart from them, the show will feature many more artists like Arjun Bijlani, Anushka Sen, Shweta Tiwari, Rahul Vaidya, Saurabh Raj Jain, Divyanka Tripathi Dahiya, Mahekk Chahal, Vishal Aditya Singh.
The show is shooting in Cape Town and will soon be aired on Colors TV's channel. The show, as usual, will be based on a new Dangerous thriller concept hosted by renowned Bollywood director Rohit Shetty. Apart from this, Abhinav is extremely fond of adventure mountain trekking.
In 2016, he completed a seven-day trek from Chandra Taal to Bara-Lalcha la with his brother. In 2017, he again successfully climbed the top of the Stok Kangri mountain in Alpine style with his brother. Abhinav has also completed a 6-day solo cycle tour from Manali to Leh alone.
He has always been known for his adventurous activities, he loves trekking and camping in the jungle whenever he is not shooting or working. Even before that, in 2014, he was trapped on the edge of a cliff during a climb in the jungles of Matheron, Maharashtra, though he was rescued by a team of rock climbers.
Abhinav Shukla Biography in Hindi:
अभिनव शुक्ला एक भारतीय मॉडल और टेलीविजन और फिल्म अभिनेता हैं जिन्हें हिंदी टीवी धारावाहिक हिटलर दीदी और बिग बॉस 14 में एक प्रतियोगी के रूप में भाग लेने के लिए जाना जाता है। उनका जन्म 27 सितंबर 1982 को पंजाब के लुधियाना में हुआ था। उनकी प्रारंभिक शिक्षा लुधियाना में हुई।
इसके बाद अभिनव ने हाईस्कूल और इंटरमीडिएट की शिक्षा गुरुनानक पब्लिक स्कूल से प्राप्त की। दसवीं कक्षा में वह बहुत दुबले-पतले थे, तब उनकी मां ने कहा कि अगर तुम्हारी पर्सनैलिटी अच्छी नहीं होगी तो तुम्हारा आत्मविश्वास कम हो जाएगा। फिर उन्होंने खुद को संवारना शुरू कर दिया।
स्कूली शिक्षा के दौरान उन्होंने कई खेल और विज्ञान प्रतियोगिताओं में भाग लिया। अपनी इंटरमीडिएट की पढ़ाई पूरी करने के बाद, उन्होंने स्नातक की पढ़ाई पूरी करने के लिए वर्ष 2000 में लाला लाजपत राय इंस्टीट्यूट ऑफ इंजीनियरिंग एंड टेक्नोलॉजी, मोगा, पंजाब में दाखिला लिया।
उन्होंने वर्ष 2004 में इलेक्ट्रॉनिक्स और संचार इंजीनियरिंग में बैचलर ऑफ टेक्नोलॉजी की डिग्री हासिल की। उन्होंने अपने स्नातक के अंतिम वर्ष में भारतीय प्रौद्योगिकी संस्थान, दिल्ली द्वारा आयोजित ट्राइस्ट 2004 तकनीकी महोत्सव में सर्वश्रेष्ठ डिजाइन पुरस्कार जीता।
इसके बाद वह अभिनय उद्योग में जगह बनाने के लिए मुंबई चले गए जहां उन्होंने मॉडलिंग सीखी। इसी बीच साल 2004 में उन्होंने ग्लैडरैग्स मिस्टर इंडिया प्रतियोगिता में हिस्सा लिया जहां वह बेस्ट पोटेंशियल का खिताब जीतने में सफल रहे। अभिनव शुक्ला पहली बार साल 2007 में टेलीकास्ट हुए सीरियल जर्सी नंबर 10 में अर्जुन की भूमिका में नजर आए थे। अभिनव ने इसी शो से अपने एक्टिंग करियर की शुरुआत की थी, फिर उन्होंने सालों तक लगातार सीरियल और शो में काम किया।
उन्होंने धारावाहिक जाने क्या बात हुई (2008) में शांतनु, छोटी बहू (2008) में विक्रम, गीत – हुई सबसे पराई (2010) में देव सिंह खुराना, एक हजारों में मेरी बहना है (2011) में डॉ. मनन सुमेर, हिटलर दीदी (2012) में सिंह चौधरी, बदलते रिश्तों की दास्तां (2013) में अनिरुद्ध बलराज अस्थाना, दीया और बाती हम (2016) में ओम राठी, सिलसिला बदलते रिश्तों का (2018) में राजदीप ठाकुर की भूमिका निभाई।
इसके अलावा अभिनव सर्वाइवर इंडिया 1 (2012), बॉक्स क्रिकेट लीग 1 (2014), बॉक्स क्रिकेट लीग 2 (2016) और बिग बॉस 14 (2020) में प्रतियोगी के रूप में नजर आ चुके हैं। बिग बॉस 14 में हिस्सा लेने के बाद उनकी फैन फॉलोइंग काफी बढ़ गई है।
हालांकि शो को उनकी पत्नी रुबिना डायलिक ने जीता, लेकिन अभिनव ने भी दर्शकों के दिलों पर राज करने में कोई कसर नहीं छोड़ी। इस रियलिटी शो में उनके खेल को क्रिटिक्स ने काफी सराहा और शो के बाद इंडस्ट्री में उनकी डिमांड काफी बढ़ गई।
हालिया मीडिया रिपोर्ट्स के मुताबिक ऐसा कहा जा रहा है कि अभिनव को फिल्ममेकर करण जौहर ने एक नया प्रोजेक्ट ऑफर किया है। अब ये खबर कितनी सच है या झूठ ये तो आने वाला वक्त ही बताएगा। उन्होंने अब तक कुछ बॉलीवुड फिल्मों में भी काम किया है। उन्होंने रोर: टाइगर्स ऑफ सुंदरबन्स में पंडित, अक्सर 2 में रिकी खंबाटा और बॉलीवुड फिल्म लुका छुपी में नाजिम की भूमिका निभाई। वह अपनी पत्नी रुबिना दिलैक के साथ बॉलीवुड फिल्म अक्सर 2 में नजर आए थे।
साल 2021 में अभिनव अब कलर्स टीवी के सबसे चर्चित और खतरनाक शो फियर फैक्टर: खतरों के खिलाड़ी में बतौर कंटेस्टेंट नजर आ रहे हैं। उनके अलावा इस शो में अर्जुन बिजलानी, अनुष्का सेन, श्वेता तिवारी, महक चहल, विशाल आदित्य सिंह जैसे कई और कलाकार नजर आएंगे।
शो की शूटिंग केप टाउन में हो रही है और जल्द ही कलर्स टीवी के चैनल पर प्रसारित किया जाएगा. यह शो, हमेशा की तरह, प्रसिद्ध बॉलीवुड निर्देशक रोहित शेट्टी द्वारा होस्ट की गई एक नई खतरनाक थ्रिलर अवधारणा पर आधारित होगा। इसके अलावा अभिनव को एडवेंचर माउंटेन ट्रैकिंग का बेहद शौक है।
2016 में, उन्होंने अपने भाई के साथ चंद्र ताल से बारा-ललचा ला तक सात दिवसीय ट्रेक पूरा किया। 2017 में, वह फिर से अपने भाई के साथ अल्पाइन शैली में स्टोक कांगड़ी पर्वत की चोटी पर सफलतापूर्वक चढ़ गए। अभिनव ने मनाली से लेह तक का 6 दिवसीय सोलो साइकिल टूर भी अकेले पूरा किया है।
वह हमेशा अपनी साहसिक गतिविधियों के लिए जाने जाते हैं, जब भी वह शूटिंग या काम नहीं कर रहे होते हैं तो उन्हें जंगल में ट्रैकिंग और कैंपिंग करना पसंद है। इससे पहले भी 2014 में वह महाराष्ट्र के माथेरोन के जंगलों में चढ़ाई के दौरान एक चट्टान के किनारे फंस गए थे, हालांकि पर्वतारोहियों की एक टीम ने उन्हें बचा लिया था।
Real Name
Abhinav Shukla
Nick Name
Abhinav
Profession
Actor, Photographer
Popular For
his role as Vikram in the TV Serial Chotti Bahu: Sindoor Bani Suhagan
Date of Birth
27 September 1982
Day
Monday
Age (as of 2023)
41 years
Birthplace
Ludhiana, Punjab, India
Hometown
Ludhiana, Punjab, India
Current Address
Mumbai, Maharashtra, India
Nationality
Indian
Languages Known
Hindi, English, Punjabi
Highschool
Guru Nanak Public School, Ludhiana
College
Lala Lajpat Rai Institute of Engineering and Technology, Moga, Punjab
Educational Qualification
B.Tech in Electronics & Communication (ECE)
Religion
Hinduism
Caste
Brahmin
Zodiac Sign
Libra ♎
Debut in
Television: Jersey No. 10 (2007)
Bollywood: Roar: The Tiger of Sunderbans (2014)
Body Measurement & Physical Stats:
Abhinav Shukla's age is 41 years old in 2023. He has earned a lot of names in the TV industry on the basis of his acting. He looks quite impressive with his physical look and has a lotus look. He is very hardworking toward his fitness and keeps doing daily workouts in the gym every day, which has made his muscles very strong.
Apart from this, he does cycling and many other outdoor activities which maintain his fitness. Apart from this, he is also very vigilant about his health and keeps a nutritious diet with delicious dishes in his daily diet. Abhinav along with eating fruits to keep his health right also drinks his juice so that he can stay healthy.
Abhinav Shukla's height is 6 feet 0 inches, which is equal to 183 centimeters. His body weight is about 85 kg, he takes a proper diet to keep his body fit so his body measurement is 42-31-15. His eye color is Dark brown, and his hair color is Black.
Age (as of 2023)
41 years
Height
in centimeter: 183 cm
in meter: 1.83 m
in feet: 6'0" inches
Weight in Kilogram
88 kg
Weight in Pounds
194 lbs
Body Measurement
42-31-15
Eye Colour
Dark Brown
Hair Colour
Black
Abhinav Shukla Family Members & Their Relationship: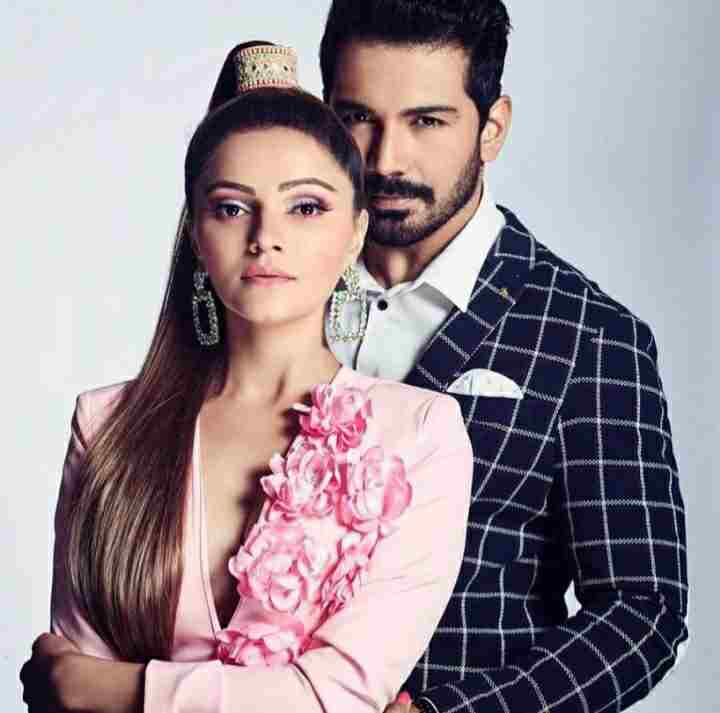 Abhinav Shukla was born into a Hindu Brahmin family. His entire family believes in Hinduism and has true faith in Hindu deities. Abhinav Shukla's father's name is KK Shukla an entomologist and his mother's name is Radha Shukla who is a teacher at Guru Nanak School in Ludhiana.
Apart from his parents, there is also an elder brother in Abhinav's house, who is a Naval officer. Talking about Abhinav's marital status, he is married. He married the famous TV actress Rubina Dilaik in June 2018. Abhinav Shukla's wife's name is Rubina Dilaik, a famous actress in the Hindi Television Industry.
Significantly, the two first met in 2015 at a friend's house in Mumbai. Where Rubina and Abhinav came to worship Ganapati. It is from here that the two are close to each other and later their friendship turns into love. After that, they both dated each other for about 3 years.
Finally, both of them decided to get married in June 2018, while carrying out their relationship. The wedding took place in Shimla with pompous customs. After that, both of them gave their wedding reception first in Ludhiana and then in Mumbai, where all the celebrities of the TV world were involved.
Both are very happy in their married life and share photos of their happiness with their social media handles. Even after the completion of 3 years of marriage in 2021, Abhinav and Rubina have not yet made any plans for the child. So far, the name of the son or daughter has not been known.
But we hope that both will want to enjoy the joy of becoming parents soon and will also give good news to their fans soon.
Read Also: Rubina Dilaik Biography, Wiki, Age, Parents, Husband, Kids, Net Worth & More
Parents
Father: K.K. Shukla (Entomologist)

Mother: Radha Shukla (Teacher)

Siblings
Brother: 1 (Elder, Naval Officer)
Sister: NA
Children
Not Available
Wife Name
Rubina Dilaik (Actress)

Marital Status
Married
Girlfriends / Affairs
Rubina Dilaik
Marriage Date
21 June 2018
Marriage Place
Shimla

Favorite Things:
Talking about Abhinav Shukla's favorite things, his favorite actors are Leonardo DiCaprio, Salman Khan, and Gautam Rhode and his favorite actress is Jacqueline Fernandes. Apart from this, he is very fond of photography, biking, tracking, reading, cycling, scuba diving, and mixed martial arts. Abhinav is also fond of listening to songs. His favorite singer are Geet Sagar.
Abhinav Shukla is known for his muscles and hard body so his favorite bodybuilder is Arnold Schwarzenegger. He is fond of trekking and photography among the mountains in his spare time, so during the holidays, he must go to his favorite destination Leh, Ladakh. Below, we have given a list of their favorite things in the table, which you must read once.
Favorite Actor
Leonardo DiCaprio, Salman Khan, Gautam Rode
Favorite Actress
Jacqueline Fernandez
Favorite Author
David Wolfe
Hobbies
Photography, Biking, Trekking, Reading, Cycling, Scuba diving, Mixed martial arts
Favorite Athlete
Lance Armstrong
Favorite Singer
Geet Sagar, Jaz Buttar
Favorite Bodybuilder
Arnold Schwarzenegger
Favorite Restaurant
Eddies in Mumbai
Cafe Lambretta in Goa
Favorite Destination
Leh, Ladakh
Abhinav Shukla Net Worth, Income & Salary:
Abhinav Shukla's total net worth is around ₹10 crores to ₹15 crores. He is a popular face in the TV industry who charges around ₹1 lakh as fees for an episode. His main source of earnings is his acting and the rest he earns a lot of money through TV endorsement and social media pages through brand promotion.
In 2021, Abhinav Shukla took part in Colors Tv much-awaited show Fear Factor: Khatron Ke Khiladi Season 11. In this show, he has been charging ₹4.25 lac per episode as a fee. Earlier, the shooting of the show was completed in Capetown and telecasted soon on Colors TV and Voot Select app.
| | |
| --- | --- |
| Salary | Approximately he charges ₹1.50 lac /- per episode |
| Car Collection | Some Luxurious Car |
| Total Networth | ₹10 Crores to ₹15 crores (Approx, as in 2021) |
Social Media Handle & Other Contact Details:
Some Interesting Facts About Abhinav Shukla:
Abhinav Shukla was born into a middle-class Hindu Brahmin family in Ludhiana, Punjab.
He took his early education in Ludhiana and participated in various Sports and Science Competitions during his school days.
He was also a part of the 4 Punjab Air Squadron in the National Cadet Corps (NCC) during his school days.
He won the Best Design Award at the Tryst 2004 technical festival organized by IIT Delhi, during his final semester of Engineering.
Abhinav was also selected as Mr. Best Potential in the Gladrags Mr. India Contest in the year 2004.
He started his carting career with the TV serial Jersy No. 10 in 2007 telecasted on the SAB TV channel.
Abhinav also enjoys drinks sometimes.
He is also a pet lover and has a pet dog named Leo.
Abhinav's marital status is married, and his wife name Rubina Dilaik is a famous actress in the Hindi television industry.
He and Rubina dated each other for 3 years and finally got married on 21 June 2018 in Rubina's Hometown Shimla.
He has also completed a 6-day solo cycle tour from Manali to Leh alone.
Abhinav also participated with her wife Rubina Dilaik as a contestant in Colors tv famous show Bigg Boss Season 14, where he got so much popularity.
In Bigg Boss 14 Abhinav and Rubina were selected as Best Jodi by the Audience.
He and her wife Rubina also feature in a Neha Kakkar music video Marjaneya.
Disclaimer: All images are available on Abhinav Shukla's official Instagram Account. Images can be taken from his official Instagram account for educational purposes. Image Credit goes to the respective owners of the Image Creator.
This is the full details on Abhinav Shukla Biography, Age, Height, Family, Wife, Siblings, Kids, Net Worth & More. Please share this post with your friends and keep visiting us on celebwale.com for famous personalities and trending people's biographies with updated details. If you have any thoughts, experiences, or suggestions regarding this post or our website. you can feel free to share your thoughts with us.