This article covers a detailed story about Actor Arjun Bijlani. It Covers more details about Arjun Bijlani's Age, Early Life, Career, Caste, Affairs, Family, Wife, Girlfriend, Son, Daughter, Siblings, Brother, Sister, Net Worth, Salary, Net Worth, Facts, Occupation, Profession, Education Qualification, Achievements, Awards, Photos, Videos, Gossips, News, Career, Serials, television show, tv shows, new song, upcoming song & Movies, Khatron Ke Khiladi, movies & More.
Arjun Bijlani Bio/Wiki:
Arjun Bijlani is an Indian television actor as well as a film actor. He was born on 31 October 1982 in a Sindhi family in Mumbai, Maharashtra, India. He completed his school education at Bombay Scottish School, Mahim, Mumbai. In school, he used to be a proactive student. He finished his graduation from H.R. College of Commerce and Economics, Mumbai.
His father died when he was just 19 years of age. On 20 May 2013, He got married to his girlfriend Neha Swami. They became parents on 21 January 2015 to a baby whom they named Ayaan Bijlani. In 2004, Arjun started his television career with a television series "Kartika" opposite Jennifer Winget. The show premiered on Hungama TV.
He came on screen in 2005 in a youth television series "Remix". In this show, he played the supporting role only. He was noticed by the audience when he played the role of Cadet Aalekh Sharma in an action-based television drama "Left Right Left" that aired on SAB TV.
Subsequently, Bijlani played the role of a rich fun-loving guy Sanjay in the Deepti Bhatnagar period drama "Mohe Rang De" which was broadcast on Colors TV. The show started on 21 July 2008 and lasted on 6 March 2009. In 2008, he acted in a TV show "Miley Jab Hum Tum" where he played the role of Mayank Sharma.
This was his first show where he was the leading actor and the show broke some records in TRPs. In 2009, he played the role of Chandrakant Bhosale in the TV show Pardes Me Mila Koi Apna opposite Bhavana Khatri, and the show was broadcast on Imagine TV. In 2012, Arjun hosted a reality talk show "Dell Inspiron Road Diaries" on UTV Bindass.
The same year, he did a TV serial "Teri Meri Love Stories" and a short film "Full Phukre". He did two short films in 2013 namely "I Guess" and "Caught in the Web". Thereafter, he appeared in the television series "Kaali – Ek Punar Avatar" opposite Aneri Vajani. "Chintu Ban Gaya Gentleman was his next series in the same year where he performed his acting.
He entertained the audience with his acting in the comedy-based drama "Jo Biwi Se Pyaar Kare" on SAB TV. He also played Box Cricket League in 2014. He exhibited the talent of his acting in Balaji's Telefilms romantic television drama series "Meri Aashiqui Tumse Hi" in 2015. Arjun quit this show in August 2015 for Naagin. In September 2015, he accepted the lead role in "Naagin", a thriller show by Balaji Telefilms.
This show turned out to be a gem in his career and provided a great height to his career. Naagin was telecast on Colors TV and gained high TRPs. Finally, it ended on 5 June 2016. Arjun Bijlani made his Bollywood debut with the film "Direct Ishq" in 2016, co-starring Rajnish Duggal and Nidhi Subbaih. The film was not successful at the box office.
In 2016, he was one of the participants in the dance TV show Jhalak Dikhlaja but got eliminated later on. In 2016, he was offered many roles back-to-back in several TV series like Kavach…Kaali Shaktiyon Se, Naagin season 2, and Pardes Me hai Mera Dil. In 2017, Bijlani was offered a role in the TV show Ishq Me Marjawan by Beyond Dreams Entertainment. He accepted this role.
The show was aired on Colors TV and obtained good TRPs. He was an anchor in the dance reality show Dance Deewane in 2019 and host of the cooking reality show Kitchen Champion in 2019. In the same year, he made an appearance in Naagin 3 for four episodes. The same year, he made a special appearance in Bigg Boss season 11 as a guest. He anchored Dance Deewane 2 aired on Colors TV in 2019.
Apart from television and movies, he was featured in a music video Kehndi Haan Kehdi Naa in January 2020. Arjun Bijlani made his debut on the digital platform with a web series State of Siege: 26/11 distributed by Zee5 in March 2020. Ishq Tanha was another music video produced by Inde Music Label in the same year.
In 2021, he participated in a stunt-based adventurous reality TV show Fear Factor: Khatron Ke Khiladi which is being filmed in Cape Town, South, Africa. In this show, he will be competing against other participants such as Anushka Sen, Divyanka Tripathi, Shweta Tiwari, Saurabh Raj Jain, Aastha Gill, Mehak Chahal, Vishal Aditya Singh, Rahul Vaidya, Nikki Tamboli, and more.
The show will be broadcast on Colors TV and hosted by well-known Bollywood director Rohit Shetty. The show will start in the month of June 2021.
Arjun Bijlani Biography in Hindi:
अर्जुन बिजलानी एक भारतीय टेलीविजन अभिनेता होने के साथ-साथ एक फिल्म अभिनेता भी हैं। उनका जन्म 31 अक्टूबर 1982 को मुंबई, महाराष्ट्र, भारत में एक सिंधी परिवार में हुआ था। उन्होंने बॉम्बे स्कॉटिश स्कूल, माहिम, मुंबई में अपनी स्कूली शिक्षा पूरी की। स्कूल में, वह एक सक्रिय छात्र हुआ करता था। उन्होंने एचआर कॉलेज ऑफ कॉमर्स एंड इकोनॉमिक्स, मुंबई से स्नातक की उपाधि प्राप्त की।
उनके पिता की मृत्यु तब हुई जब वे केवल 19 वर्ष के थे। 20 मई 2013 को उन्होंने अपनी प्रेमिका नेहा स्वामी से शादी कर ली। वे 21 जनवरी 2015 को एक बच्चे के माता-पिता बने, जिसका नाम उन्होंने अयान बिजलानी रखा। 2004 में, अर्जुन ने अपने टेलीविजन करियर की शुरुआत जेनिफर विंगेट के साथ एक टेलीविजन श्रृंखला "कार्तिका" से की। शो का प्रीमियर हंगामा टीवी पर हुआ।
वह 2005 में एक युवा टेलीविजन श्रृंखला "रीमिक्स" में स्क्रीन पर आए। इस शो में उन्होंने केवल सहायक भूमिका निभाई। सब टीवी पर प्रसारित एक एक्शन-आधारित टेलीविजन नाटक "लेफ्ट राइट लेफ्ट" में कैडेट आलेख शर्मा की भूमिका निभाने पर दर्शकों ने उन्हें देखा। इसके बाद बिजलानी ने दीप्ति भटनागर काल के नाटक 'मोहे रंग दे' में कलर्स टीवी पर प्रसारित होने वाले एक अमीर मस्ती करने वाले संजय की भूमिका निभाई। यह शो 21 जुलाई 2008 को शुरू हुआ और 6 मार्च 2009 को चला।
2008 में, उन्होंने एक टीवी शो "माइली जब हम तुम" में अभिनय किया, जहाँ उन्होंने मयंक शर्मा की भूमिका निभाई। यह उनका पहला शो था जहां वह प्रमुख अभिनेता थे और इस शो ने टीआरपी में कुछ रिकॉर्ड तोड़े। 2009 में, उन्होंने टीवी शो परदेस मी मिला कोई अपना में भावना खत्री के साथ चंद्रकांत भोसले की भूमिका निभाई, और यह शो इमेजिन टीवी पर प्रसारित किया गया। 2012 में, अर्जुन ने यूटीवी बिंदास पर एक रियलिटी टॉक शो "डेल इंस्पिरॉन रोड डायरीज" की मेजबानी की।
उसी साल, उन्होंने एक टीवी धारावाहिक "तेरी मेरी प्रेम कहानियां" और एक लघु फिल्म "फुल फुकरे" की। उन्होंने 2013 में दो लघु फिल्में की, अर्थात् "आई गेस" और "कॉट इन द वेब"। इसके बाद, वह टेलीविजन श्रृंखला "काली – एक पुनर् अवतार" में अनेरी वाजनी के साथ दिखाई दिए। "चिंटू बन गया जेंटलमैन उसी वर्ष उनकी अगली श्रृंखला थी जहां उन्होंने अपने अभिनय का प्रदर्शन किया। उन्होंने सब टीवी पर कॉमेडी-आधारित नाटक "जो बीवी से प्यार करें" में अपने अभिनय से दर्शकों का मनोरंजन किया।
उन्होंने 2014 में बॉक्स क्रिकेट लीग भी खेला। उन्होंने की प्रतिभा का प्रदर्शन किया। 2015 में बालाजी की टेलीफिल्म्स रोमांटिक टेलीविजन ड्रामा सीरीज़ "मेरी आशिकी तुमसे ही" में उनका अभिनय। अर्जुन ने नागिन के लिए अगस्त 2015 में इस शो को छोड़ दिया। सितंबर 2015 में, उन्होंने "नागिन" में मुख्य भूमिका स्वीकार की। बालाजी टेलीफिल्म्स द्वारा थ्रिलर शो। यह शो उनके करियर में एक रत्न बन गया और उनके करियर को एक बड़ी ऊंचाई प्रदान की।
नागिन को कलर्स टीवी पर टेलीकास्ट किया गया और उच्च टीआरपी प्राप्त हुई। 2016 में फिल्म "डायरेक्ट इश्क", रजनीश दुग्गल और निधि सुब्बेह की सह-अभिनीत। फिल्म बॉक्स ऑफिस पर सफल नहीं रही। 2016 में, वह डांस टीवी शो झलक दिखलाजा में प्रतिभागियों में से एक थे, लेकिन उनका सफाया हो गया बाद में, 2016 में, उन्हें कई टीवी श्रृंखलाओं में कई भूमिकाओं की पेशकश की गई थी जैसे कवच … काली शक्तियोन एसई, नागिन सीज़न 2, और परदेस में मेरा दिल।
2017 में, बियॉन्ड ड्रीम्स एंटरटेनमेंट द्वारा टीवी शो इश्क मी मरजावां में बिजलानी को एक भूमिका की पेशकश की गई थी। उन्होंने इस भूमिका को स्वीकार किया। शो को कलर्स टीवी पर प्रसारित किया गया और अच्छी टीआरपी मिली। वह 2019 में डांस रियलिटी शो डांस दीवाने में एंकर और 2019 में कुकिंग रियलिटी शो किचन चैंपियन के मेजबान थे। उसी वर्ष, उन्होंने चार एपिसोड के लिए नागिन 3 में एक उपस्थिति दर्ज की।
इसी साल उन्होंने बिग बॉस सीजन 11 में बतौर गेस्ट खास अपीयरेंस किया था। उन्होंने 2019 में कलर्स टीवी पर प्रसारित डांस दीवाने 2 की एंकरिंग की। टेलीविजन और फिल्मों के अलावा, उन्हें जनवरी 2020 में एक संगीत वीडियो केहंदी हां केहदी ना में दिखाया गया। घेराबंदी: 26/11 मार्च 2020 में ZEE5 द्वारा वितरित किया गया। इश्क तन्हा उसी वर्ष इंडे म्यूजिक लेबल द्वारा निर्मित एक और संगीत वीडियो था।
2021 में, उन्होंने एक स्टंट-आधारित साहसिक रियलिटी टीवी शो फियर फैक्टर: खतरों के खिलाड़ी में भाग लिया, जिसे केप टाउन, दक्षिण, अफ्रीका में फिल्माया जा रहा है। इस शो में उनका मुकाबला अन्य प्रतिभागियों जैसे अनुष्का सेन, दिव्यांका त्रिपाठी, श्वेता तिवारी, सौरभ राज जैन, आस्था गिल, महक चहल, विशाल आदित्य सिंह, राहुल वैद्य, निक्की तम्बोली, और बहुत कुछ से होगा।
इस शो का प्रसारण कलर्स टीवी पर किया जाएगा और इसकी मेजबानी बॉलीवुड के जाने-माने निर्देशक रोहित शेट्टी करेंगे। यह शो जून 2021 के महीने में शुरू होगा।
Real Name
Arjun Bijlani
Nick Name
Jun
Profession
Actor
Popular For
Aalekh (Left Right Left)
Mayank Sharma (Miley Jab Hum Tum)
Date of Birth
31 October 1982
Day
Sunday
Age (as of 2023)
40 years
Birthplace
Mumbai, Maharashtra, India
Hometown
Mumbai, Maharashtra, India
Current Address
Interface Heights, Malad West, Mumbai
Nationality
Indian
Language Known
Hindi, English
Educational Qualification
Graduate
Highschool
Bombay Scottish School, Mumbai
College Name
H.R. College of Commerce and Economics, Mumbai
Religion
Hinduism
Caste
Not Known
Zodiac Sign/Star Sign
Scorpio ♏
Debut in
Television: Kartika (2004)
Bollywood: Direct Ishq (2016)
Body Measurements & Physical Stats:
Arjun Bijlani's age is 40 years old in the year 2022, but he looks very smart due to his excellent fitness. He works out for hours in the gym every day, due to which his body looks very fit and great. Apart from exercising for hours in the gym, he consumes green greens, vegetables, and fruit juices. He likes to eat nutritious things in food, which keeps his body fit.
Arjun Bijlani's height is 5 feet 8 inches, which is equal to 173 centimeters. His body weight is about 74 kg, he takes a proper diet to keep his body fit so his body measurement is 38-30-13. His eye color is Dark Brown, and his hair color is Black.
Read Also: The most Tallest tv actor Varun Sood Biography, Age, Height, Father, Family, Wife, Girlfriends, Networth & More
Age (as of 2023)
40 years
Height
in centimeter: 173 cm
in meter: 1.73 m
in feet: 5'8″ inch
Weight in kilogram
74 kg
Weight in pounds
163 lbs
Body Measurement
38-30-13
Eye Colour
Dark Brown
Hair Colour
Black
Arjun Bijlani's Wife, Family Members & Their Relationship: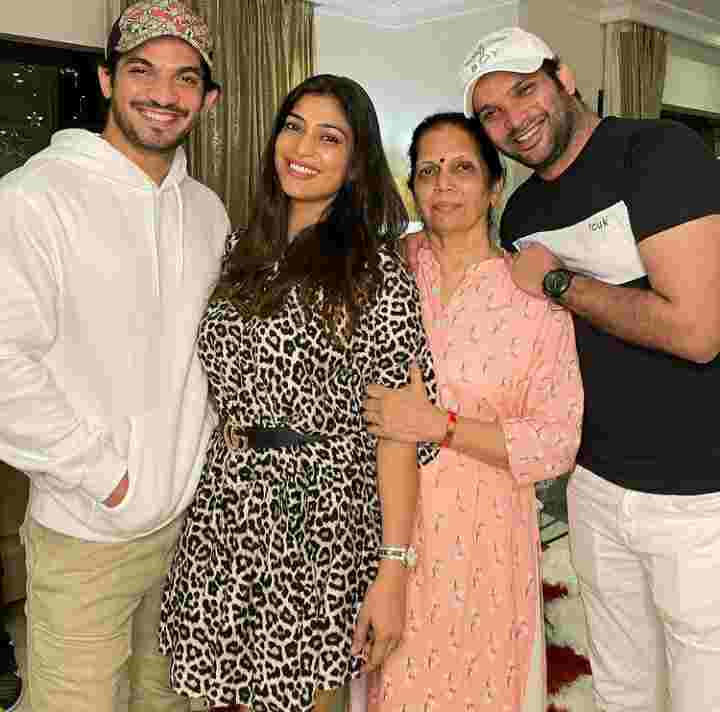 Arjun Bijlani was born in a Sindhi family in Maharashtra. He believes in Hinduism and also worships Hindu deities. His father died when Arjun was 19 years old. Since then Arjun has been handling all the responsibilities of his house. Arjun Bijlani's father's name was Late Sudarshan Bijlani. Arjun Bijlani's mother's name is Shakti Bijlani who's a housewife and currently lives with him.
Apart from her mother, Arjun Bijlani also has a younger brother named Niranjan Bijlani. Talking about Arjun Bijlani's marital status, he is married and her wife's name is Neha Swami, who is an actress in the television industry. Arjun's marriage was not an arranged marriage, he fell in love with Neha at first sight.
Their love story is very long in which both of them first romance, engaged, and then married. There was true love in their love story and they managed their relationship in the best way and took it to the point of marriage.
Let us tell you that Arjun Bijlani and Neha Swami met at a party. Arjun, who became a star of the TV industry with Star One channel's famous show "Miley Jab Hum Tum", was attracted to the beautiful Neha as soon as he saw her. A common friend introduced them to each other.
Arjun Bijlani was impressed by Neha's simplicity. Arjun realized that he was in love with Neha at the same time, but Neha took time as a sensible person, and then later she said yes to Arjun.
Later Neha said about the first meeting with Arjun that "It was love at first sight for Arjun. But it was not so for me at all, because I was a very shy girl. After a few meetings, we two became good friends. After that, we started meeting often and eventually going out together."
However, Arjun proposed to Neha after a few meetings, after which Neha took a long time to say "yes". The love story of these two lasted for about 8 years, after which they finally got married in the year 2013 in the presence of all friends and family members.
Arjun Bijlani and Neha Swami got married in a traditional way at the ISKCON temple in Juhu, Mumbai. They were married according to purely Hindu rituals. The two gave their wedding reception the very next day at the Hilton Hotel, in Mumbai. All the friends of these two were involved.
Arjun Bijlani also has a child, whom Neha gave birth to in the year 2015. Both have named their son Ayaan and now they are enjoying their life as good parents. Talking about Arjun's Workfront, these days he has gone to Cape Town for the shooting of Colors TV's popular show Khatron Ke Khiladi.
Read Also: Mahek Chahal Biography, Wiki, Actress, Age, Height, Father, Family, Husband, Instagram, Networth & More
Parents
Father: Late Sudarshan Bijlani

Mother: Shakti Bijlani

Siblings
Brother: Niranjan Bijlani

Sister: Not Available
Children
Son: Ayaan (born in 2015)

Daughter: Not Available
Wife Name
Neha Swami (Actress)

Martial Status
Married
Girlfriends / Affairs
Neha Swami (Actress)
Marriage Date
20 May 2013
Favorite Things:
Talking about Arjun Bijlani's favorite things, his favorite actors are Akshay Kumar, Aamir Khan, Irrfan Khan, and Nawazuddin Siddiqui and his favorite actresses are Deepika Padukone and Priyanka Chopra.
He likes to shopping, he likes to shop till he gets tired. Apart from shopping, Arjun is very fond of the gym, reading books, watching TV news, and biking. We have given a list of all his favorite things in the table, which you must read once.
| | |
| --- | --- |
| Favorite Actor | Akshay Kumar, Aamir Khan, Irrfan Khan, Nawazuddin Siddiqui, and Leonardo DiCaprio |
| Favorite Actress | Deepika Padukone and Priyanka Chopra |
| Favorite Perfume | Issey Miyake |
| Favorite Color | Yellow, Red |
| Hobbies | Gymming, Shopping, Reading, Watching News, Biking, Dancing |
| Favorite Food | Butter Chicken, Palak Paneer, Vada Pav, Chocolate Truffle Cake |
| Favorite Fashion Designer | Rocky S |
| Favorite Destination | Kashmir, Bangkok, Dubai |
Arjun Bijlani Net Worth, Income & Salary:
Talking about the total net worth of Arjun Bijlani, his total earnings are around ₹12 crores to ₹18 crores. His main source of earnings is acting in TV shows and serials. Apart from acting, he still earns good money by promoting the products of different types of brands. He charges around ₹85k to ₹1.2 lakh per episode.
In 2021, Arjun Bijlani took part in Colors Tv much-awaited show Fear Factor: Khatron Ke Khiladi Season 11. In this show, he has been charging ₹7 lac per episode as a fee. Earlier, the shooting of the show was completed in Capetown and telecasted soon on Colors TV and Voot Select app.
| | |
| --- | --- |
| TV | Approximately he charges ₹85K-₹1.2 lakh/episode |
| Total Net Worth | ₹12 crores- ₹18 Crores (approx, as of 2023) |
Social Media Handle & Other Contact Details:
Some Interesting Fact About Arjun Bijlani:
Arjun is a smoking person, he often smokes.
He belongs to Mumbai was born in a Sindhi family and worshiped Lord Ganesha.
Arjun Bijlani's father died when Arjun was just 19 years old. Then he took acting more seriously.
He used to do bike stunts in his college days.
Arjun performed brilliant acting in many hit shows.
He also received various awards like the Dadasaheb Phalke Awards, Man Of Substance 2020, Gold Awards, Digital Entertainment Awards, Gold Glam & Style Awards, etc.
Arjun's wife Neha Swami is the niece of actress Deepti Bhatnagar.
He started his acting career with the TV serial Kartika in the year 2004.
Arjun Bijlani made his debut in the Bollywood Industry in the film Direct Ishq in 2016.
He is also the owner of a wine shop in Mumbai.
He is an animal lover and has a pet dog named Boozie.
In 2019, Arjun participated in the dance reality show Nach Baliye 8 along with her wife Neha.
He also appeared in some music videos like Kehndi Han Kehndi Naa, Ishq Tanha, Mohabbat Phir Ho Jayegi, and Tum Bewafa Ho. His new song is Tum Bewafa Ho, which was released recently in 2021.
Disclaimer: All images are available on Arjun Bijlani's official Instagram Account. Images can be taken from his official Instagram account for educational purposes. Image Credit goes to the respective owners of the Image Creator.
This is the full details on Arjun Bijlani Biography, Age, Height, Family, Wife, Son, Net Worth & More. Please share this post with your friends and keep visiting us on celebwale.com for famous personalities and trending people's biographies with updated details. If you have any thoughts, experiences, or suggestions regarding this post or our website. you can feel free to share your thoughts with us.