This article covers a detailed story about the Indian film actress Tridha Choudhury. It Covers more details about Tridha Choudhury's Age, Early Life, Body measurement, Career, Affairs, Parents, Siblings, Family, Kids, Husband name, boyfriend, relationship, Son, Daughter, Photos, About, Movie list, Tv Ads, Songs List, New Song, Music Videos, ragalahari, Facebook, Instagram, Twitter, Net Worth, Salary, Facts, Occupation, Profession, Education, Education Qualification, Achievements, Awards, Photos, Videos, Gossips, News, Career & more.
Tridha Choudhury Bio/Wiki:
Tridha Choudhury is an Indian film actress who has worked predominantly in Bengali and Telugu films as an actress. But now it would not be wrong to say that she is also active in the Hindi film industry for some time now.
Tridha made a lot of headlines for her role as Babita in MX Player's controversial web series Aashram. Tridha Choudhury was born on 22 November 1989 in Kolkata, West Bengal. She did her early education at M.P. Birla Foundation Higher Secondary School in Kolkata.
She has been interested in dance since her childhood, due to which she participated in and won many dance competitions organized in her school. After this, she graduated with a degree in Microbiology from the Scottish Church College located in Kolkata. After completing a degree in Microbiology, she started her career in modeling. After starting her career as a model, she was also a part of some beauty queen competition shows.
She participated as a contestant in the Clean & Clear Calcutta Times Fresh Face Beauty Contest held in the year 2011 where she was adjudged the winner of the show. In the year 2013, Tridha got a chance to appear in the Bengali film Mishawr Rawhoshyo for the first time.
In this film, she started her film career by playing the character of Rini. After coming to films, she never looked back and by doing films one after the other, she became one of the leading heroines in the Bengali film industry.
Till now she has worked in Bengali films like Jodi Love Dile Na Prane, Khaad, Merry Christmas, Khawto, and Shesh Theke Shuru. After establishing her foot in the Bengali film industry, Tridha Choudhury turned to the Telugu film industry where she made her debut in the Telugu film industry with the 2015 Telugu film Surya vs Surya. In this film, she played the lead role of Sanjana. After this, she appeared in the role of Nikita in the Telugu film Manasuku Nachindi.
In the year 2019, she appeared in the Telugu/Tamil mystery thriller film 7 in which her role Priya was well-received by film critics. She was seen in the role of Tridha in the Telugu film Anukunnadi Okati Ayinadi Okati released in the last year 2020.
Tridha Choudhury turned to the Hindi entertainment industry after making her mark in the Bengali and Telugu film industry and made her debut in the Hindi television industry with Star Plus serial Dahleez which was telecasted in the year 2016.
In this Star Plus serial, she played the role of Swadheenta Ramakrishnan, which made her popular among the Hindi audience. She became known from house to house among the Hindi audience for her role. After earning a name in the industry with his only Hindi serial, she got a chance to work in Viu India's web series Spotlight in the next year. In this debut web series, Tridha played the role of Sana Sanyal, which was highly appreciated by critics.
In 2018, she appeared in the role of Vaidehi in the Bengali web series Shei Je Holud Pakhi which was released on Hoichoi. In 2019 and 2020, Tridha won the hearts of people with her strong performance in famous Hindi web series like Chargesheet: The Shutterlock Murder and Bandish Bandits.
After this, Tridha Choudhury played the very bold character of Babita in MX Player's controversial hit web series Aashram & Aashram 2 released in 2020. Despite being surrounded by controversies, this web series of MX Player was liked by the people.
In this web series which was directed by Prakash Jha, every actor did justice to his character. The performance of Tridha Choudhury, who played the role of Babita in the Aashram, was praised by everyone. She was seen in a very bold avatar in this series in which she gave many intimate scenes with Baba.
After the success of MX Player's web series Aashram and Aashram 2, she is currently busy with the shooting of Aashram 3. Apart from this, she is also going to be seen in the lead role in Ranbir Kapoor's starrer film Shamshera, whose shooting is currently underway.
Tridha Choudhury Biography in Hindi:
त्रिधा चौधरी एक भारतीय फिल्म अभिनेत्री है जो मुख्य रूप से बंगाली और तेलुगु फिल्मों में एक अभिनेत्री के तौर पर सक्रिय है। लेकिन अब कहना गलत नहीं होगा कि वो पिछले कुछ समय से हिंदी फिल्म इंडस्ट्री में भी सक्रिय है। त्रिधा ने एमएक्स प्लेयर की विवादित वेब सीरीज आश्रम में अपने रोल बबिता के लिए काफी सुर्खियां बटोरी थी। त्रिधा का जन्म 22 नवंबर 1989 को कोलकाता, पश्चिम बंगाल में हुआ था।
उन्होंने कोलकाता के M.P Birla Foundation Higher Secondary School से अपनी शुरुआती शिक्षा हासिल की थी। वह अपने बचपन के समय से ही डांस में रुचि रखती थी जिसके वजह से उन्होंने अपने स्कूल में आयोजित कई डांस कंपटीशन में हिस्सा लिया और जीता भी। इसके बाद कोलकाता में ही स्थित स्कॉटिश चर्च कॉलेज से माइक्रोबायोलॉजी में ग्रेजुएशन की डिग्री हासिल की। कॉलेज की पढ़ाई पूरी करने के बाद उन्होंने मॉडलिंग में अपने करियर को शुरुआत की।
एक मॉडल के तौर पर अपने करियर की शुरुआत करने के बाद वह कुछ ब्यूटी क्वीन कंपटीशन शोज का भी हिस्सा रही थी। उन्होंने वर्ष 2011 में आयोजित हुए क्लीन & क्लियर कलकत्ता टाइम्स फ्रेश फेस ब्यूटी कॉन्टेस्ट में एक कंटेस्टेंट के तौर पर हिस्सा लिया था जहा उनको शो का विजेता चुना गया था। वर्ष 2013 में त्रिधा को पहली बार बंगाली फिल्म Mishawr Rawhoshyo में शामिल होने का मौका मिला। इस फिल्म उन्होंने Rini का किरदार निभाकर अपने फिल्मी करियर की शुरुआत की।
फिल्मों में आने के बाद उन्होंने कभी पीछे मुड़कर नही देखा और लगातार एक के बाद एक फिल्में कर के वह बंगाली फिल्म इंडस्ट्री की प्रमुख हीरोइनों में शामिल हो गई। इस दौरान उन्होंने Jodi Love Dile Na Prane, Khaad, Merry Christmas, Khawto और Shesh Theke Shuru जैसी बंगाली फिल्मों में काम किया। बंगाली फिल्म इंडस्ट्री में अपना पैर जमाने के बाद त्रिधा ने तेलुगु फिल्म इंडस्ट्री की तरफ रुख किया जहा उन्होंने वर्ष 2015 में रिलीज हुई तेलुगु फिल्म Surya vs Surya से तेलुगु इंडस्ट्री में अपना डेब्यू किया था।
इस फिल्म में उन्होंने संजना का लीड रोल निभाया था। इसके बाद वह तेलुगु फिल्म Manasuku Nachindi में निकिता के रोल में नजर आई थी। वर्ष 2019 में वह तेलुगु/तमिल मिस्ट्री थ्रिलर फिल्म 7 में नजर आई जिसमें उनके रोल प्रिया को फिल्म समीक्षकों द्वारा काफी प्रसंशा प्राप्त हुई थी। उन्हें पिछले वर्ष 2020 में रिलीज हुई तेलुगु फिल्म Anukunnadi Okati Ayinadi Okati में त्रिधा के रोल में देखा गया था।
त्रिधा चौधरी ने बंगाली और तेलुगु फिल्म इंडस्ट्री में अपने झंडे गाड़ने के बाद हिंदी एंटरटेनमेंट इंडस्ट्री की तरफ रुख किया और साल 2016 में टेलीकास्ट हुए स्टार प्लस के धारावाहिक Dahleez से हिंदी टेलीविजन इंडस्ट्री में अपना डेब्यू किया। स्टार प्लस के इस सीरियल में उन्होंने Swadheenta Ramakrishnan का रोल निभाया था जिससे वह हिंदी दर्शकों के बीच पॉपुलर हो गई। वह अपने इस रोल को लेकर हिंदी दर्शकों के बीच घर घर जानी जाने लगी।
अपने एकमात्र हिंदी सीरियल से इंडस्ट्री में नाम कमाने के बाद उन्हें अगले वर्ष 2017 में ही Viu India की वेब सीरीज स्पॉटलाइट में काम करने का मौका मिल गया। अपने इस डेब्यू वेब सीरीज में त्रिधा ने Sana Sanyal का रोल निभाया था जिसे क्रिटिक्स द्वारा काफी सराहा गया था। 2018 में वह बंगाली वेब सीरीज Shei Je Holud Pakhi में वैदेही के रोल में नजर आयी जिसे Hoichoi पर रिलीज किया गया।
2019 और 2020 में त्रिधा ने Chargesheet: The Shutterlock Murder और Bandish Bandits जैसे फेमस हिंदी वेब सीरीज में अपने दमदार परफॉर्मेंस से लोगों का दिल जीता। इसके बाद वह 2020 में रिलीज हुई एमएक्स प्लेयर की विवादित हिट वेब सीरीज आश्रम में बबिता का बेहद बोल्ड किरदार निभाया था। एमएक्स प्लेयर की यह वेब सीरीज विवादों से घिरने के बावजूद लोगों को काफी पसंद आई थी। प्रकाश झा द्वारा निर्देशित इस वेब सीरीज में हर एक्टर ने अपने किरदार के साथ न्याय किया था।
आश्रम में बबिता का किरदार निभाने वाली त्रिधा के अभिनय की हर किसी ने तारीफ की थी। वह इस सीरीज में काफी बोल्ड अवतार में नजर आई थी जिसमें उन्होंने बाबा के साथ कई इंटिमेट सीन्स दिए थे। एमएक्स प्लेयर की वेब सीरीज आश्रम और आश्रम 2 के हिट होने के बाद वह फिलहाल आश्रम 3 के शूटिंग में व्यस्त है। इसके अलावा वह रणबीर कपूर की आने वाली फिल्म Shamshera में भी मुख्य किरदार में नजर आने वाली है जिसकी शूटिंग फिलहाल जारी है।
Read Also: Mrunal Thakur Biography, Wiki, Age, Height, Father, Family, Parents, Husband, Boyfriend, Movies List, Upcoming Movies, Net Worth 2021 & More
Real Name
Tridha Choudhury
Nick Name
Babuni Girl
Profession
Model & Actress
Popular for
Her role in MX Player Web Series Aashram
Date of Birth
22 November 1989
Day
Wednesday
Age (as of 2023)
33 years
Birthplace
Kolkata, West Bengal, India
Hometown
Kolkata, West Bengal, India
Current Address
Mumbai, Maharashtra, India
High School
M.P. Birla Foundation Higher Secondary School, Kolkata
College Name
Scottish Church College, Kolkata
Educational Qualification
Graduate in Microbiology
Nationality
Indian
Language Known / Speak
English, Hindi & Bangla
Religion
Hinduism
Caste
Not Known
Zodiac Sign/Star Sign
Sagittarius ♐
Debut in Film
Bengali Film: Mishawr Rawhoshyo (2013)
Telugu Film: Surya vs Surya (2015)
Television: Dahleez (2016)
Web Series: Spotlight (2017)
Body Measurement & Physical Stats:
Tridha Choudhury's age is 33 years in the year 2023. She is a bold actress who is known for her intimate scenes in films. Tridha remains in a lot of headlines for her hot look. Her fitness is also amazing, which she works hard to achieve.
Talking about her fitness routine, she does yoga during the day to maintain physical and mental fitness, which includes many types of asanas like aerial yoga. Apart from this, she does lightweight exercises in the gym which are helpful in building her muscles.
Tridha Choudhury also plays many outdoor games like volleyball. She also takes care of her dance routine and performs classical dance regularly which keeps her body energetic. Regarding her daily routine, she said in an interview that
to stay fit, it is most important that you start your day right. I listen to ragas and slogans every morning and say silence for at least 20 minutes. Apart from this, I limit the amount of caffeine to two cups a day and consume a lot of green vegetables. My favorite food is Dal Khichdi which is prepared in Maharashtrian style with double tempering. She eats anything from broccoli, mushroom to egg, poha, and upma for breakfast. I eat a good portion of protein in the form of fish or meat with rice and roti for lunch. But I like simple home-cooked food and eat my last meal by 9 PM.
Regarding her hair and skin care, she said that she exfoliates her skin with a good scrub. She also loves using brown sugar mixed with honey or water on her face and body and then moisturizing her skin thoroughly. Also, one last time after washing the hair the package uses drinking water which really helps in keeping their hair well.
Tridha Choudhury's height is 5 feet 5 inches, which is 165 cm. Her body weight is 55 kg and Choudhury's body measurement is 35-26-34. Her eye color is Black and her hair color is Black.
Age (as of 2023)
33 years
Height
in centimeter: 165 cm
in meter: 1.65 m
in feet: 5'feet 5''inches
Weight in kilogram
55 kg
Weight in pounds
121 lbs
Body Measurement
35-26-34
Eye Colour
Black
Hair Colour
Black
Tridha Choudhury Family Members & Their Relationship: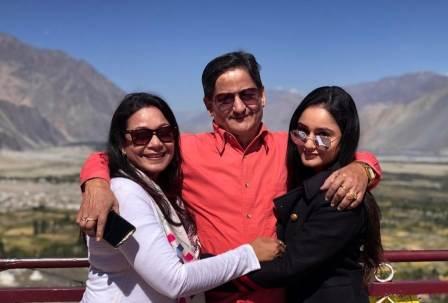 Tridha was born into a prosperous Hindu Bengali family. His entire family worships Hindu deities and believes in the Hindu religion. Tridha herself worships Maa Durga. Tridha Choudhury's father's name is Ashish Choudhury and her mother's name is Trishna Choudhury. Tridha has no siblings other than her parents. She is the only girl of her parents.
Talking about Tridha Choudhury's marital status, she is unmarried, so her husband's name is not known. Although the news of her affair or relationship with actor Akash Chatterjee keeps coming on social media. According to Internet media, the name of Tridha Choudhury's boyfriend is Akash Chatterjee.
Read Also: Neha Sharma Biography, Bigg Boss 14, Age, Height, Father, Husband, Sister, Movies, Instagram, Marriage, Net Worth & More
Parents
Father: Ashish Choudhury

Mother: Trishna Choudhury

Siblings
Not Available
Children
Not Known
Husband
Not Known
Martial Status
Unmarried
Affairs / Boyfriends
Akash Chatterjee (Actor)
Tridha Choudhury Net Worth, Salary & Income:
Talking about the Total Net Worth of Tridha Choudhury, their total net worth is around ₹20 crores. She has made films in many languages including Bengali, Hindi, Tamil, and Telugu. Apart from this, she has also made music videos in Bengali, Bhojpuri, and Rajasthani languages for which she has taken fees in lakhs.
After performing in several hit web series since then the demand for actresses has increased significantly. According to media reports, their property may be around ₹20 crores. She is a Royal Lifestyle mistress and lives in a very luxurious house. Apart from this, many luxurious cars like BMW also exist.
| | |
| --- | --- |
| Salary | Approx ₹1 crore per film |
| Car Collection | BMW |
| Total Net Worth | ₹20 crores as in 2021 (Approx, as in 2021) |
Social Media Accounts & Other Contact Details:
Tridha Choudhury's account is present on all social media platforms where she shares hot and bold photos with her fans. She dominates Instagram with her hot and bikini photos, which reach millions of likes as soon as they are uploaded. Ever since she gave her bold scenes in the Aashram web series, she has become a social media sensation. Every picture of her is uploaded like a fire on the internet. Every picture of him raises the temperature of the internet.
Her bikini photos are creating panic everywhere on social media. Tridha, who has seduced millions of hearts with her beauty, keeps sharing many such pictures from her official Instagram handle, to which people react fiercely and praise her beauty. She has more than 2 million followers on her Instagram account and the number of her posts is also more than 1.5k. Apart from this, she is present on Facebook where more than 3 million people follow him.
Wikipedia has also covered Tridha Choudhury on its page. She also has a verified account on Twitter where she shares her thoughts through tweets with 33k followers. In the table below, we have shared the links of all his social media profiles with you, by clicking on them you will be able to access her profile page directly.
Some Interesting Facts About Tridha Choudhury:
Tridha Choudhury is an Indian film actress who is mainly known for working in the Bengali, Telugu, and Bollywood industries.
She belongs to a Hindu Bengali family.
She is also a devotee of Goddess Durga.
She got her childhood education in Kolkata, West Bengal.
Tridha got her graduation in Microbiology from Scottish Church College, Kolkata
She is also drinking alcohol.
Since childhood, she has been fond of dancing and also participates in various dance competitions at her school.
After completing her graduation, she started her career in Modeling where she was the winner of the Clean & Clear Calcutta Times Fresh Face Beauty Contest.
She is also a pet dog lover and has a pet dog Bubbles.
Tridha Choudhury started her career in the Bengali movie Mishawr Rawhoshyo.
She also started her career in the Telugu Industry with the film Surya vs Surya in 2015.
She frequently uploads bold photos on her social media account on Instagram.
After working in some Bengali and Telugu films she moved towards Bollywood Industry and made her debut in the Hindi Industry with the Viu web series Spotlight.
Tridha Choudhury came into the limelight for her role as Babita in the MX Player web series Aashram.
In 2022, she is going to appear in the Bollywood movie Shamshera along with Ranbir Kapoor.
This is the full details on Tridha Choudhury Biography, Age, Height, Cast, Father, Family, Husband, Net Worth & More. Please share this post with your friends and keep visiting us on celebwale.com for famous personalities and trending people's biographies with updated details. If you have any thoughts, experiences, or suggestions regarding this post or our website. you can feel free to share your thoughts with us.