This article covers a detailed story about Indian Politician JP Nadda. It Covers more details about JP Nadda's Wikipedia, Wiki, Biography, Early Life, National President of BJP, Birthday, Birthplace, Age, Career, Caste, Affairs, Marital Status, Father, Mother, Family, Religion, wife name, marriage, married, Siblings, Height, Body Measurements, Net Worth, Salary, Facts, Occupation, election, political leader, Profession, Education, Education Qualification, Achievements, Awards, Photos, Videos, Gossips, News, Career, contact number, Instagram & More.
JP Nadda Bio/Wiki:
Shri Jagat Prakash Nadda aka JP Nadda is the National President of the Bharatiya Janata Party (BJP) which is currently one of the largest electoral parties in India. Prime Minister Narendra Modi is also a candidate of the Bharatiya Janata Party. Nadda ji was born on 2 December 1960 in Patna, Bihar.
He received his early education from St. Xavier's School in Patna. As a child in school, he represented the state of Bihar in the All India Junior Swimming Championships held in Delhi.
After receiving higher secondary education, he obtained a BA degree in politics from Patna University, Patna. In 1975, he entered student politics for the first time by joining ABVP while studying at Patna University. After that, he jumped into the Sampoorna Kranti movement started by Jai Prakash Narayan during the dark days of the Emergency.
In 1977, he contested the Patna University Students' Union election for the first time as an ABVP candidate, winning which he was elected as the secretary of the University Students' Union.
After graduating he moved to Himachal where he earned a Bachelor of Laws (LLB) degree from Himachal University. In 1989, when Nadda Ji was just 29 years old, he was entrusted with a big responsibility as the election in charge of the youth wing of the BJP.
Just two years later, in 1991, he was made the President of the Bharatiya Janata Yuva Morcha. In 1993, he contested the Bilaspur seat in the Himachal Pradesh Assembly elections as a BJP candidate and won the election. After that, he was re-elected in the Himachal Assembly elections in 1998 and 2007.
He handled important ministries like Forest, Environment, Science, and Technology during his tenure. In 2012, Nadda was elected to the Rajya Sabha and served as a member of the Parliamentary Standing Committee on Transport, Tourism, and Culture.
In 2014, he was once again elected to the Rajya Sabha and Prime Minister Narendra Modi made him the Union Health Minister from 2014 to 2019. In 2019 he was appointed as the National Working President of the Bharatiya Janata Party. He was finally elected as the National President of the BJP in 2020.
JP Nadda Biography in Hindi:
श्री जगत प्रकाश नड्डा उर्फ जेपी नड्डा भारतीय जनता पार्टी (बीजेपी) के राष्ट्रीय अध्यक्ष हैं जो वर्तमान में भारत की सबसे बड़ी चुनावी पार्टियों में से एक हैं। प्रधानमंत्री नरेंद्र मोदी भी भारतीय जनता पार्टी के ही एक उम्मीदवार हैं। नड्डा जी का जन्म 2 दिसंबर 1960 को पटना, बिहार में हुआ था। उन्होंने अपनी शुरुआती शिक्षा पटना स्थित सेंट जेवियर स्कूल से प्राप्त की थी।
स्कूल में एक बच्चे के तौर पर उन्होंने दिल्ली में हुए ऑल इंडिया जूनियर स्विमिंग चैंपियनशिप में बिहार राज्य का प्रतिनिधित्व किया था। हायर सेकेण्डरी की शिक्षा प्राप्त करने के बाद उन्होंने पटना के पटना यूनिवर्सिटी से पॉलिटिक्स में बीए की उपाधि प्राप्त की। सन् 1975 में उन्होंने पटना यूनिवर्सिटी में पढ़ते हुए एबीवीपी के शामिल होकर पहली बार छात्र राजनीति में प्रवेश किया।
उसके बाद वह आपातकाल के काले दिनों के दौरान जय प्रकाश नारायण जी द्वारा शुरू किए गए सम्पूर्ण क्रांति आंदोलन में कूद पड़े। 1977 में उन्होंने एबीवीपी उम्मीदवार होते हुए पहली बार पटना विश्वविद्यालय छात्र संघ का चुनाव लड़ा जिसमे जीत हासिल कर वह विश्वविद्यालय छात्र संघ के सचिव के रूप में चुने गए। स्नातक करने के बाद वह हिमाचल चले गए जहा उन्होंने हिमाचल विश्वविद्यालय से कानून में स्नातक (एलएलबी) की डिग्री हासिल की।
वर्ष 1989 में जब नड्डा जी महज 29 वर्ष के थे, तब उन्हे भाजपा की युवा शाखा के चुनाव प्रभारी के रूप में एक बड़ी जिम्मेदारी सौंपी गई। महज 2 साल बाद 1991 में उन्हें भारतीय जनता युवा मोर्चा का अध्यक्ष बना दिया गया। 1993 में उन्होंने हिमाचल प्रदेश विधानसभा चुनाव में बिलासपुर सीट पर भाजपा प्रत्याशी के तौर पर चुनाव लड़ा और चुनाव में जीत हासिल की।
उसके बाद वह हिमाचल विधानसभा चुनाव 1998 और 2007 में दोबारा चुने गए। उन्होंने अपने कार्यकाल के दौरान फॉरेस्ट, एनवायरमेंट, साइंस एंड टेक्नोलॉजी जैसे महत्वपूर्ण मंत्रालय को संभाला। 2012 में नड्डा जी को राज्यसभा के लिए चुना गया और परिवहन, पर्यटन और संस्कृति पर संसदीय स्थायी समिति के सदस्य के रूप में काम किया।
2014 में वह एक बार फिर राज्यसभा के लिए चुने गए और प्रधानमंत्री नरेंद्र मोदी जी ने उन्हें 2014 से 2019 तक केंद्रीय स्वास्थ्य मंत्री बना दिया। 2019 में वह भारतीय जनता पार्टी के राष्ट्रीय कार्यकारी अध्यक्ष के रूप में नियुक्त किए गए। अंततः 2020 में उन्हें भाजपा के राष्ट्रीय अध्यक्ष के रूप में चुना गया।
Read Also: Yogi Adityanath Age, Wife, Cast, Education, Family, Real Name, Biography, Net Worth & More
Real Name
Jagat Prakash Nadda
Nick Name
JP Nadda
Profession
Politician, Advocate
Political Party
BJP (Bhartiya Janta Party)
Popular For
President of Bhartiya Janta Party (BJP)

Date of Birth
02 December 1960
Day
Friday
Age (as of 2023)
62 years
Birthplace
Patna, Bihar, India
Hometown
Patna, Bihar, India
Current Address
7-B, Motilal Nehru Marg, New Delhi, India
Nationality
Indian
Highschool
St. Xavier's School, Patna
College Name
*Patna College, Patna University, Patna, Bihar, India
*Faculty of Law, Himachal Pradesh University, Shimla
Educational Qualification
*Bachelor of Arts (B.A.)
*Bachelor of Laws (LL.B.)
Religion
Hinduism
Caste/Ethnicity
Brahmin
Zodiac Sign/Star Sign
Sagittarius ♐
Body Measurements & Physical Stats:
JP Nadda's age in 2023 is 62 years and his height is 5 feet 5 inches, which is equal to 165 centimeters. his body weight is about 65 kg, he takes a proper diet to keep his body fit so that his body measurement is 40-34-12. His eye color is Brown, and his hair color is also Black.
Age (as of 2023)
62 years
Height in Feet
in centimeter: 165 cm
in meter: 1.65 m
in feet: 5′ 5″ inch
Weight in kilogram
65 kg
Weight in pounds
143 lbs
Body Measurement
40-34-12
Eye Colour
Black
Hair Colour
Black
JP Nadda Family Members & Their Relationship: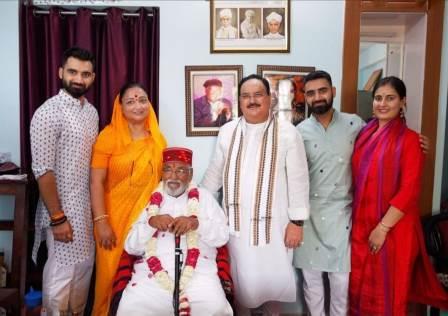 Belonging to a Brahmin family, Jagat Prakash Nadda was born into a prosperous Hindu Brahmin family. His entire family believes in Hinduism and worships Hindu deities. JP Nadda's father's name is Dr. Narayan Lal Nadda and he has also been the ex-vice chancellor of Patna University.
His mother's name was Late Smt. Krishna Nadda. He is the only child of his parents. Nadda Ji's marital status is married and his wife's name is Dr. Mallika Nadda. They also have 2 sons named Harish Chandra Nadda and Girish Chandra Nadda.
Parents
Father: Dr. Narain Lall Nadda (Ex Vice-Chancellor of Patna University)

Mother: Late Shrimati Krishna Nadda
Siblings
Brother: None
Sister: None
Children/Kids
Son: 2
Harish Chandra Nadda (younger)

Girish Chandra Nadda (elder)

Daughter: None
Wife Name
Dr. Mallika Nadda

Martial Status
Married
Marriage Date
11 December 1991
JP Nadda Net Worth, Income & Salary:
According to the affidavit given by JP Nadda in the 2018 elections, he has total assets of about ₹3.5 crores. Nadda Ji's salary is around ₹2.3 lakh per month. They also have vehicles like Toyota Innova (2015) and Hyundai i20 (2014).
Salary
₹230,000 (US$3,100)+ other allowances as an MLA (in 2022)
Car Collection
• Toyota Innova (2015 Model)
• Hyundai i20 (2014 Model)
Total Net Worth
• Bank Deposits: ₹52.92 Lakh
• Jewellery: 300 gm Gold jewelry & 60 gm Gold Ring worth ₹8.25 Lakh
• Agricultural Lands: Worth ₹20+ Lakh
• Non-Agricultural Lands: Worth ₹60+ Lakh
• Residential Buildings: Worth ₹1.55+ crores
Social Media Handle & Other Contact Details:
Read Also: Bhagwant Mann Age, Wife, Cast, Family, Biography, Politician, Net Worth & More
| | |
| --- | --- |
| Facebook | @JagatPrakashNadda (1.2m+ followers) |
| Instagram | @jpnaddaofficial (309k+ followers) |
| Twitter | @JPNadda (3.1m+ followers) |
| Wikipedia | J._P._Nadda |
| Email | jpnadda@gmail.com |
| Mobile/Phone Number | 011-23500000 |
| Website | www.jagatprakashnadda.in |
| Office Address | BJP Central Office 6-A, Pandit Deen Dayal Upadhyaya Marg, New Delhi-110002 India |
Some Interesting Facts About JP Nadda:
Jagat Prakash Nadda aka JP Nadda was born into a Hindu Brahmin family in Patna, Bihar.
He is the National President of the Bhartiya Janta Party (BJP).
He made his debut in Politics during his college days.
He also took part in the Sampoorn Kranti movement run by the late Loknayak Jayaprakash Narayan Ji during the emergency.
From 1993-1998, 1998 – 2003, and 2007 – 2012 served for three terms as a Member of the Himachal Pradesh Legislative Assembly.
He was also appointed as a National Working President of the Bhartiya Janata Party in 2019.
He also keeps doing yoga to keep his health fine.
Disclaimer: All images are available on Jagat Prakash Nadda's official Instagram Account. Images can be taken from his official Instagram account for educational purposes. Image Credit goes to the respective owners of the Image Creator.
This is the full details on JP Nadda (Politician) Biography, Age, Height, Father, Family, Wife, Caste, Net Worth & More. Please share this post with your friends and keep visiting us on celebwale.com for famous personalities and trending people's biographies with updated details. If you have any thoughts, experiences, or suggestions regarding this post or our website. you can feel free to share your thoughts with us.