This article covers a detailed story about Jai Jai Swami Samarth (Colors TV Marathi). It Covers more details about Jai Jai Swami Samarth (Colors TV Marathi) Cast, New Show, Telecast Time, Repeat Timing, Episodes, Producer, Director Casting Director, Full Episode Achievements, Awards, Photos, Videos, Promo, Trailer, Gossips, News, Serial, television show, colors tv, Vijaya Babar, Period drama tv shows, an upcoming tv show, Casting List, & More.
Jai Jai Swami Samarth (Colors TV Marathi) is an Indian television show which is being aired on Colors Marathi TV after Christmas from 28 December 2021. It is made by the production of CamsKlub Studios Pvt Ltd.
In this serial lead role is performed by two characters one is Akshay Mudwadkar and another is Vijaya Babar. Jai Jai Swami Samarth will be a fictional serial being telecasted on Colors TV on 28 December 2020.
Jai Jai Swami Samarth is a periodic drama serial that is an Indian television serial based on the life story of Swami Samarth. In this serial, Akshay Mudwadkar will be seen in the lead role of Swami Samarth.
The show is being produced under the Camsklub banner and its dialogue is written by Vikas Patil. You can watch this serial anytime from anywhere through the Voot app or Voot's official website. You can download the Voot app from the Google Play Store or from the App Store
Quick Info About the Serial Jai Jai Swami Samarth:
Television Show: Jai Jai Swami Samarth
Genre: Period Drama
Edition: 1
Language: Marathi
Country: India
Start Date: 28 December 2020
Day: Monday to Saturday (6 days in a week)
Time: 09:30 PM IST
Running Time: 20-22 Minutes
TV Channel: Colors Tv Marathi
Online: Voot App
Produced By: CamsKlub Studios Pvt Ltd
Repeat Telecast Time: Not Available
Director: Umesh Namjoshi
Producer: Rakesh Sarang and Sangeeta Sarang
Editor: Narpat Choudhary
Title & Background Music: Shashank Pawar
Singer: Ashta Lohar
Lyrics: Vaibhav Joshi
Editor: Narpat Choudhary
DoP: Rupesh Tatkari
Costume Director: Sangeeta Sarang
Art Director: Sachin Shiktode
Star Cast And Their Role In Jai Jai Swami Samarth

:
As: Swami Samarth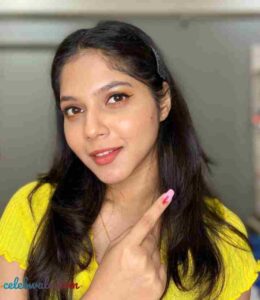 As: Chanda
Kristina Vartak
As: Saraja (Chanda's stepsister)
Pooja Raibagi
As: Kalindi (Chanda's stepmother)
Atul Sanas
As: Chanda's father
Akshata Naik Sawant
As: Yesu (Cholappa's wife)
Nitya Pawar
As: Krishnappa (Cholappa-Yesu's son)
Swanand Desai
As: Bandopa/Bandopant
Neeta Pendse
As: Radha (Yesu's mother)
Read Also: Akshay Mudawadkar Biography, Serials, Age, Height, Wife, Family, Networth & More
Watch Promo of

Jai Jai Swami Samarth:
Promo 1
Promo 2
This is the full details on Jai Jai Swami Samarth Serial Cast, Sony TV New Show, Telecast Time, Episodes & More. Share this post with your friends and keep visiting us on celebwale.com for such an entertaining post. If you have any thoughts, experiences, or suggestions regarding this post or our website. you can feel free to share your thought with us.